Coincident Speaker Technology is proud to introduce the CST I. Designed solely based upon scientific principles and utilizing the finest materials, the CST I represents the purest, most accurate signal transfer currently available at a real world price.
While the sonic superiority of the CST I will be evident with all speakers and amplifiers, the cables mate particularly synergistically with all Coincident speaker models. Low resistance, low inductance, and moderate capacitance ensure that all types of amplifiers and speakers will benefit from being connected with the CST I.
The CST I represents a sonic breakthrough in cables at this price point. In fact, the CST I will outperform virtually all cables regardless of price.
What makes the CST I so special?

Time aligned design - Differing conductor widths and geometry to optimize the transfer of all frequencies symetrically.
Pressure extruded, vacuum drawn 6N copper which ensures the purest conductors possible.
Proprietary conductor winding and geometry to ensure virtually no signal loss - each conductor is comprised of 3 solid core strands .12mm in diameter, 6 separated fine strand copper bundles with a single solid core .25mm in the center equaling 8 AWG.
High gauge, 24K gold plated 6N copper spades.
Very stiff, with high damping co-efficient polypropylene dielectric which not only minimizes cable resonance, but possesses very low DA (dielectric absorption).
Termination:
24K gold 6N copper spades
Gold plated banana plugs are optional at no extra charge.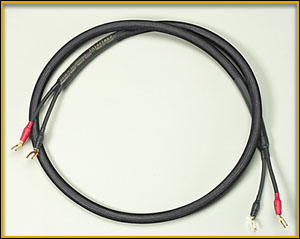 The CST I speaker cable has been designed to sound as pure as possible with virtually all components and will last a lifetime.