Super Victory III Loudspeaker



SPEAKER OF THE YEAR
Coincident Speaker Technology is very excited to announce the introduction of the Super Victory III . What makes this speaker so special is that it offers state of the art design, construction and performance in a compact, aesthetically pleasing form that is priced far below what one would expect to pay for this high level of achievement.
The Super Victory III will sound superb in small to moderate size as well being highly capable of easily filling a large space. They can be positioned as close as 18" from a back wall without suffering the deleterious sonic affects of reduced front to back depth. Their high sensitivity, smooth 8 ohm impedance modulus, simple first order crossover, phase coherency both acoustically and electrically all ensure that SET 300B, 211 or even 2A3 tube amplifiers will mate optimally. The Super Victory III high power handling capability will mean that large power tube and solid state amplifiers will also work beautifully for audiophiles who favour those types of amplifiers. As always with Coincident speakers, amplifier choice is a personal one.







Improving upon the award winning ( Stereomojo Speaker of the Year, Best Medium Speaker at CES, TAS Editor's Choice Award) Super Victory is no easy task, but the new Super Victory III has done just that. All the drivers- Tweeter, midrange and woofer are new and dramatically improved. The improvements are as follows:
1. Tweeter - Latest evolutionary improvement to the ribbon tweeter technology used in previous Total Victory and Super Victory designs. Less mass and improved neodymium magnet structure results in wider dispersion, greater dynamic capabilities and even airier, more extended high frequency response.
2. Midrange - The latest composite cone technology results in a stiffer, lighter cone which reduces distortion at high SPLs by 35%. Magnet mass has been increased by 50% which translates to greater sensitivity and wider frequency response.

3. Woofer - The latest developments in state of the art woofer design has now been incorporated into the SV III. The new unit is based upon the previous one but the cone material has been changed from Nomex to aluminum. The sonic result is higher output capabilities and reduced distortion levels at the lowest frequencies.
Response down to 20 hz with distortion at high SPLs at vanishingly low levels.
The finest woofer available and the same unit used in our state of the art
Pure Reference Extreme MK II loudspeakers..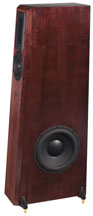 4. Crossover - Due to the above changes, the crossover has been further optimized to take advantage of all the improvements incorporated in the SVIII.

The Super Victory III has taken a breakthrough product and the finest value in speakers and made it better. All the sonic attributes that made the Super Victory world renowned have been retained and enhanced to a significant degree.


Specifications:

Sensitivity: 92.5 db -1 w@ 1 M
Impedance: 8 ohms
Power Requirements: 3 watts - 500 watts
Frequency Response: 22 HZ - 35 Khz
Dimensions: 47" H x 9" W x 19" D
Weight: 125 lbs ea.
Price: $11499 US/pr.