As if to prove that cost-effective manufacturing still exists outside of Guangzhou, Canada's Coincident has launched a fabulous all-tube integrated amp, the Dynamo 34SE, with -- get this -- a price of $1299. That's what you'd expect to pay for a tube amp made in China, not Ontario. Even more of a shock was the initial price: had you ordered one at the Rocky Mountain Audio Fest, it would have been yours for $999.
There must be a catch, you're thinking. True, the tubes are "foreign," and I suspect the sockets and terminals are imported. There's no cage, so Europe would probably deny it CE approval (which is about as meaningful as a positive criticism from Simon Cowell). But my friend and fellow half-sour-pickle maven "Yossel" Blume assures me that everything else is Canadian. Too bad it doesn't say "Eh?" when you switch it on.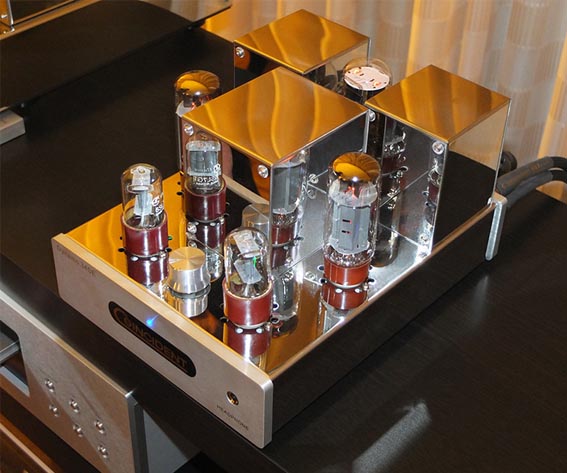 It's a chunky little bugger, the 8.5" x 11" footprint and a weight of 22 pounds telling you that this is no flea-weight novelty tube amp with a lone valve. Indeed, its tube line-up is impressive: two EL34s 
in single-ended triode mode, delivering 8Wpc, with one 
6SL7 input/driver tube per channel and an autobias circuit with a single, shared 5U4 GB rectifier tube.
That alone is a hundred bucks worth of glass. Add into the mix a mirror-finish stainless-steel chassis with .25"-thick brushed-aluminum front and back panels, and you'll see that there are no cosmetic giveaways as to its price. Inside, all is hard-wired and the socketry is what I call "mock WBT," but even there you'll find no compromise: Coincident fitted three binding posts per channel to provide a choice of 4-ohm or 8-ohm connections.
Also at the back is a single pair of gold-plated phono sockets for a line-level source, and an IEC three-pin receptacle for the AC cable. Conveniently, the unit operates at 115V/230V.
The quasi-minimalism isn't just a way of keeping costs down: it defines the Dynamo's charm. On the left-hand side, there's an on/off rocker switch. At the front, an LED to indicate power on and a 1/4" headphone socket. Between the tubes at the front, a rotary volume control. That's everything.
What you're looking at, then, is a single-source, all-tube integrated amp with a headphone socket that mutes the outputs, so it's also a helluva serious headphone amplifier. If you're really short of cash but have other sources to accommodate, you can expand it with any inexpensive preamp, or dig out an old passive preamp. Feed it with a computer via an HRT or other pocket-money DAC, or insert a CD player straight in, and you have a wonderful solution for the audiophile on a budget.
No, it's not perfect, and the sample I have has an audible hum in one channel that I'll find a way to eradicate, but despite that, I'm loving it. Source of choice at present is Fidelia on the Mac, feeding NAD's astounding D 1050 DAC, which endows the Coincident with five digital inputs. And while the Dynamo manfully drives my old Spendor LS3/5As to ideal levels on my desktop, the ear-opener is its way with my headphones du jour. No, make that headphones de l'année.
Coincident Speaker Technology, NEW AMPs | avshowrooms.com
Rocky Mountain Audio Fest by Key Kim | Stereo Times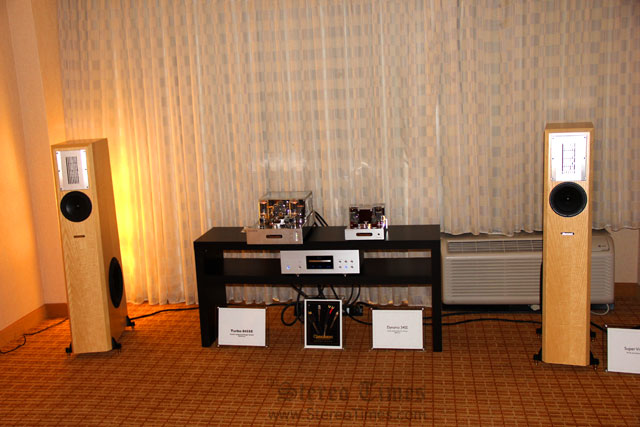 The Coincident Speaker Technology room sounded very good once again. I was very impressed with the sound of the Coincident Technology Dynamo 34SE Stereo Integrated amplifier but STARTLED at the Introductory asking price ($999). This little bugger boasts a single SE (EL34) 8-watt tube alongside a 6SL7 input/driver tube and 5U4 GB rectifier tube - all hardwired I'm told. For those on a beer budget, but who demand performance and high-quality look no further. The Dynamo 34SE's drove the Super Victory II loudspeakers ($9,999/pair) far better than their price would have suggested. The sound was stunningly vivid, detailed and most importantly musical.

The Favorites | Stereomojo.com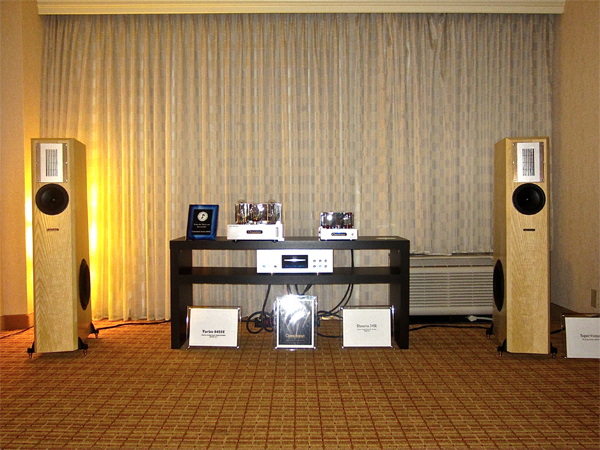 Let's get back to earth a little bit. A lot of new stuff from Coincident. Speakers are the new Super Victory II, Natural Ash finish $9,999 pair.

S ee the little amp on top right? That's what was driving the Super Vics to enormous levels.
(They're very sensitive/efficient) It's called the Dynamo 34SE Stereo integrated with 8 watts per channel $999.
Here's a closer look:
For $11,000, you can have an outstanding, extremely musical system. Just add a source.
But make sure it does DSD....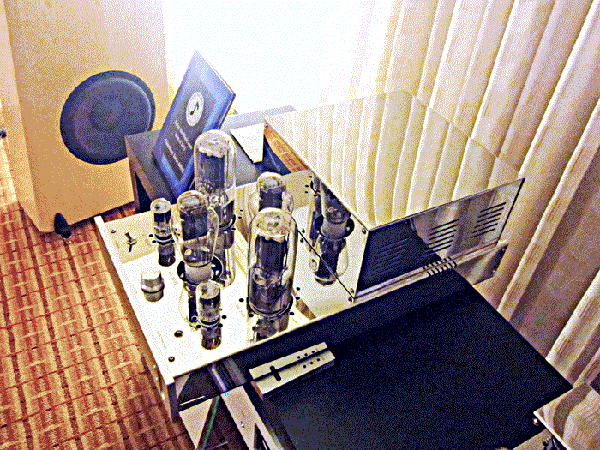 This is the new Turbo 845SE at only $5,999. Notice the same mirror polished finish that graces all Coincident amps, even the little tyke.
This is said to be a state of the art stereo integrated single ended triode amplifier. It is constructed as true dual mono. The only shared component between the two channels is the chassis. The Turbo was created for those who do not want to compromise quality or performance but are limited to space which preclude mono amps and a separate preamp. The Turbo also serves as a state of the art headphone amp. A convenient front panel headphone jack is included. Output impedance is a standard 300 ohms.
The Turbo has an enormous power supply and generates 28 watts per channel which means it can power optimally most sensibly designed speakers. Ultimate transparency, purity and flat frequency response are the sonic result.
Specifications:
Single Ended 845 Output-
28 watts per channel
Pure Dual Mono
Auto Bias
All hard wired
6N copper Japanese Steel proprietary power and output transformers
6EM7 input tube,
300B driver,
845 output.
3 RCA inputs
Discrete Resistor volume control
Voltage selectable 115V/230V
AC ground lift
Remote control volume- mute.
Frequency response: 20 hz- 20khz - flat
Sensitivity: 1V for full output
Input impedance: 100 K ohms
S/N Ratio- 90 db
Weight; 100 lbs

And look folks:
It comes with a remote! This was always a disappointment to me,
the lack of a remote. But here it is! Yay.
Rocky Mountain Audio Fest 2013: Part 4 | The Absolute Sound
With its bright mirror-like finishes
Coincident Technology
shined with a pair of single ended integrated amps (Pictured above) that should appeal to all sorts of budgets. Classic in appearance both of these beauties should garner even further attention thanks to the built-in headphone amps. The Turbo 845SE ($5999) is a true dual mono design built around the 300B driver tube. Output is 28Wpc and includes a remote control. At the other end of the scale and certainly one of the cutest amps at the show was the Dynamo 34SE ($999-not a misprint!) Single-ended 8Wpc, this little hard-wired EL34 based integrated is destined to steal the hearts of desktop and headphone lovers alike.
RMAF 2013 Coverage I | A Unique Audiophile Experience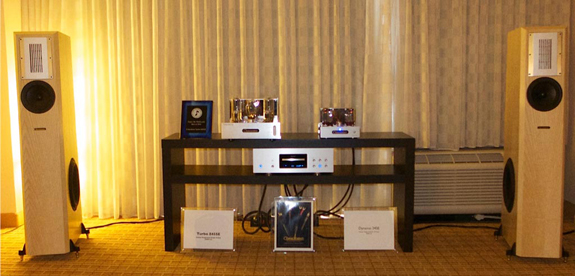 The Coincident Speaker Technology room was sounding really good. Coincident was playing their Secret Victory II with two amps. First they used the Turbo 845SE integrated. I believe this may be one of the best valued super-tube amp out there. They were also showing their new little 8 watt SET the Dynamo 34SE that has an introductory price of $999.00. I was shocked by how good it sounded.
RMAF 2013| Enjoythemusicom.com - Show Report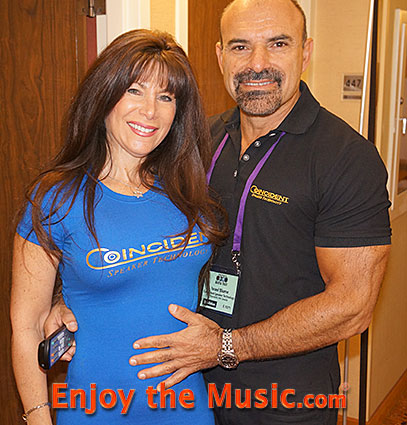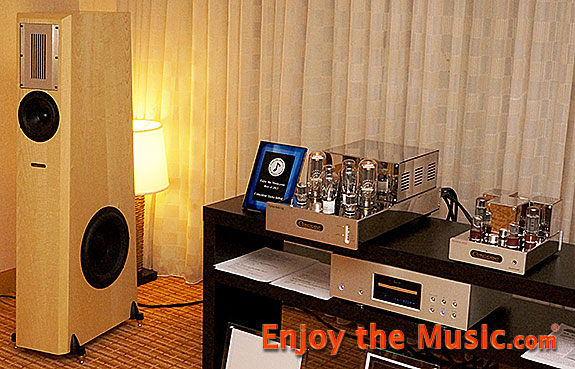 Enjoy the Music.com Blue Note Award earning Coincident Technology Turbo 845 SE tube amp was here at RMAF 2013. This unit produces 28 wpc stereo and uses a 6EM7 for input and 300B for driver. Each channel takes advantage of the 845 for output.
The Desk | stereodesk.com - NY Show Report
One of the best sounds I heard all day was in the Audio Loft / Coincident Speaker Room. My listening notes say, 'Meaty, down to bone sucking tasty. Not what I'm used to hearing from ceramic drivers, but the synergy between speaker and electronics was obviously engineered to a T." As you may have seen in the second part of this show report, my interest was also peeked by the the new Dynamo SE34, which for a cool grand gets you an SET el34 integrated along with what should be an excellent headphone amp. The turntable was the excellent VPI Classic 4, with an HRX 12.7 tonearm and a Dynavector DRT XV-1t cartridge. The rest was all Coincident. Thomas Krauss and Israel Blume were perfect hosts. Israel was a wealth of information on his view of driving a headphone, dismissing some of the myths around impedance and sensitivity. Evie Rein was out front, the spirit of greet and sweet.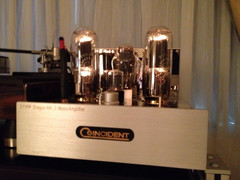 The New York Audio Show 2013 Part 2...HeadPhonia!!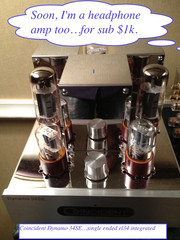 Coincident, whose room proper had one of the best sounds of show, (wait for the next installment) had this little gem. The Coincident Dynamo SE34. As you've guessed, it's an SET EL34 integrated, that soon will be sporting a headphone output. I had a great discussion with,(or was given a class) by Israel Blume, and it was most informative. The Dynamo will be a very reasonable $999...not bad for nice tube integrated that should do a stellar job with most cans.
The Audio Loft, Coincident Speaker Technology | YouTube
NY Audio Show: Coincident Statement Phono Preamplifier Looks as Good as It Sounded | Analog Planet
by Michael Fremer


Does this look like a $5999 phono preamplifier? It looks far more costly to me. Canadian manufacturer Coincident Technology sells this new two-box tube-based phono preamp direct to consumers for $5999. The unit features a 100 watt power amplifier sized power supply and uses 2 12AX7s per channel in a point-to-point wired circuit.
High quality step up transformers help the unit produce 66dB of gain. RIAA is zero feedback passive. Quality components (polystyrene caps in the RIAA circuit, Teflon film and foil coupling caps) are used throughout.
And as an added extra, the Statement features a line input and dual mono volume pots, making it also a full function preamplifier.
NY Audio Show: Coincident Gets Deep... | hpsoundings.com
by Joey Weiss


The Coincident room was impressive. The practically all-Coincident system consisted of their flagship Dragon MK II amplifiers, the Statement Line and Phono stage, Pure Reference Extreme speakers. Everything was hooked up with Coincident's Shotgun cables. The source I listened to was the VPI Classic 4 turntable, with the new and beautiful Rosewood finish. Israel Blume, owner and designer, put together a system that grabbed your attention. The sound was huge and pure. With lively dynamics and a real sense of authority, the music effortlessly flowed from the speakers. This system produced, perhaps, the most musically deep sound I experienced at the show.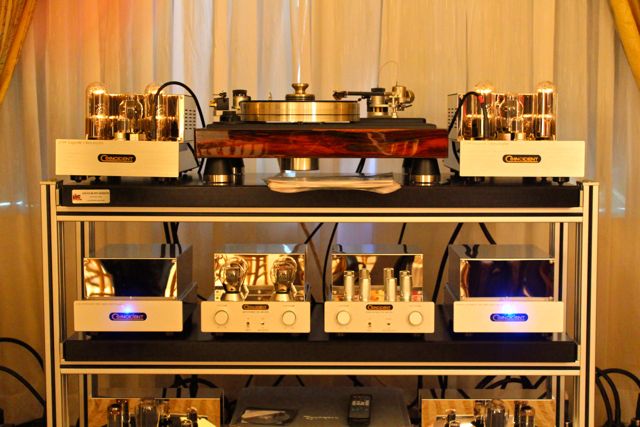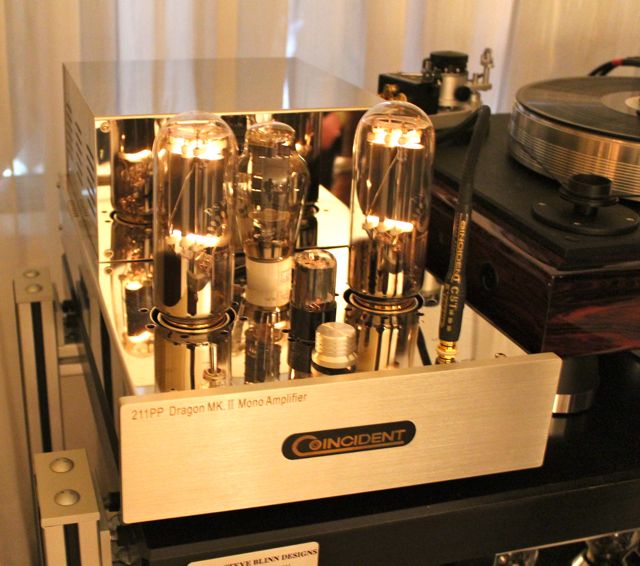 NY Audio Show 2013 | Audio Loft
The Chester Group's New York Audio Show 2013 |

Enjoythemusic.com

New to Coincident is their Dynamo SE34 ($999) that uses EL34tubes.Now Iknow what you thinking, this sweet looking honey of an amplifier simply can't have all that great exotic stuff yet still be under a grand. This cutie SET amp is said to belie its 8 watt power rating and according to Coincident any 90dB/W/m sensitive speaker should work. Other tubes that support the EL34 outputs are 6SL7 input/driver tube and 5U4 GB rectifier tube. And there's more! For under agrand you also get hand wiring, a stainless steel mirror finish chassis… all in a 22 lbs package for less than an Alexander Hamilton ($1000 United States Federal Reserve Note).

A Frugal Audiophile At The New York Audio Show | Enjoythemusic.com
Report By Alfred Fredel

Coincident Speaker Technology
This was one of the best sounding booths in the show but hidden away was a little 8-watt gem that really caught my attention. The Dynamo 4SE is a great little high quality integrated amplifier for those who wish to give tubes a go and experience the magic. At $999, it is an absolute "no-brainer".
Coincident Speaker Technology The RMAF 2012 | AV Showrooms
RMAF 2012 • Hot Product | The Audio Beat
Coincident Speaker Technology's new Total Victory V ($14,999/pair) has amplifier-friendly specs, including a claimed 94dB sensitivity and 14-ohm load, but what's most impressive is its ribbon tweeter, which Coincident designed and manufactures. In place of the common grid, the tweeter uses a circuit board over which mylar is stretched. Israel Blume of Coincident says that the tweeter's sensitivity is even a little higher than that of the speaker. As if to prove the point, he drove the Total Victory Vs with a pair of his Frankenstein M300B monoblocks ($5999/pair), which offer all of 8 watts. Dynamics weren't an issue, and the system sounded wideband and powerful.
Israel Blume at Coincident has upgraded just about everything he makes.
The speakers are now the Total Victory V, up from the IV's we reviewed at $14,999/pair.
The Frankenstein M300B mono amps are $5,999/pair - still one of our favorite low power (8 watts) amps of all time. The Dragons at 70 mono watts are now $10,999 with a 20% larger power supply and other upgrades and the Statement line stage, again one of the best we've ever tested, is still $5,499 with the improvements. The sound here, as always, was a big standout. Natural, very dynamic and above all, extremely musical. The Coincident sound draws you in rather than playing "at you". We like.
RMAF 2012 Show | Enjoythemusic.com

by Enjoythemusic.com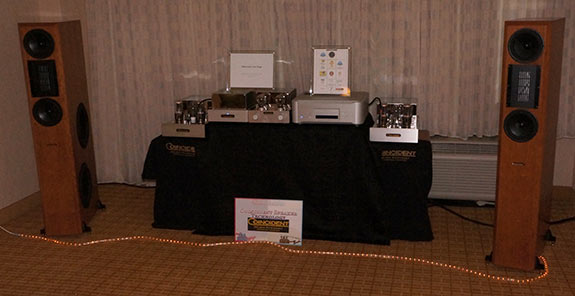 Coincident Speaker Technology had many of their highly prized tube amplification products plus their smooth and fast sounding speakers too. The sound had wonderfully extended highs and imaging was very impressive. Wish I had more time to listen more, but damn I am running way behind in my schedule as this show has grown into a monster! They have uprated the Total Victory speakers with new aluminum woofers to the same as their highly acclaimed Golden Ear Award winning Pure Reference Extreme.
RMAF 2012 Show | SECRETS CAVE COVERAGE

by Jim Clements
SECRETS CAVE

This is a system by Coincident Technology. New this year were the 70 wpc Dragon Mk II 211 PP Monoblocks ($10,999/pr) and the Total Victory V Speakers ($14,999/pr). The speakers have a ribbon tweeter, D'appolito 7" composite mids and dual 12" aluminum woofers (94 dB and 14 ohms). Also in play was their Statement Linestage ($5,499). I listened to a track with acoustic instruments and the strings simply jumped out of the speakers.
A closeup of the Coincident rack.
RMAF 2012 Show |

Stereophile.com



Great Sound, No Coincidence
-
By Jason Victor Serinus
It was nearing the end of the day of the first day of the show, and I hadn't covered nearly enough exhibits to ensure blogs for every room on floors 4 and 5, plus a number of others that I had agreed to cover. That, I figured, was why I found myself increasingly breathless as I ran from room to room, listening to less and less music before jotting down a few notes and heading out the door.
Then I entered the Coincident Speaker Technology room, heard some gorgeous music, and realized the underlying reason for my near-frantic pace.
Sure, I was running behind, as in "So Many Rooms, So Little Time," but I had also become increasingly dissatisfied with systems that attempt to pass off ordered sound as music. They're not at all the same. Too many systems present notes with relative coherence, but without any of the magic that reaches far beneath the surface and energizes both gut and heart.
All that changed when Israel and Eve Blume began to play Oscar Peterson's We Get Requests on the Esoteric K01 SACD player. Heard through Coincident Speaker Technology's Total Victory V ($14,999/pair), a loudspeaker with an impressive claimed 94dB sensitivity, 14 ohm load, and frequency range of 22 Hz–35kHz, and conveyed through Coincident cabling, Frankenstein M300B monoblock amplifiers ($5999/pair), Dragon Mk.II 211PP monoblock amplifiers ($10,999/pair), and Statement's line stage preamplifier ($5599), Peterson's piano sounded warm, round, full, and exceptionally musical. Yes, volume had to be held in check, because the system had a tendency to overdrive the small room. But what I heard was so captivating and beautiful that I even sat enthralled as Diana Krall, whom I'm told is a superb pianist, held forth on yet one more recording that sounded as if she had taken one too many quaaludes.
If you don't remember quaaludes, either you're too young, or you were too zonked back when to remember much of anything. But that's another story, and one that I happily have no place in other than as observer. The real story is that in the Coincident Speaker Technology room, I was no longer an observer. I was deeply involved . . . with music. Which, ultimately, is the raison d'être for my involvement in the high-end, and the reason I go room-to-room in search of the real thing.
Thanks, Eve and Israel
T.H.E. Show (Newport Beach) 2012 Coverage
June 8, 2012 | The Coincident Speaker Technology Room
Review by Ultra High-End Audio and Home
Coincident Speaker Technology auditioned its Pure Reference Extreme loudspeakers ($26,800/pair) with its own line of electronics.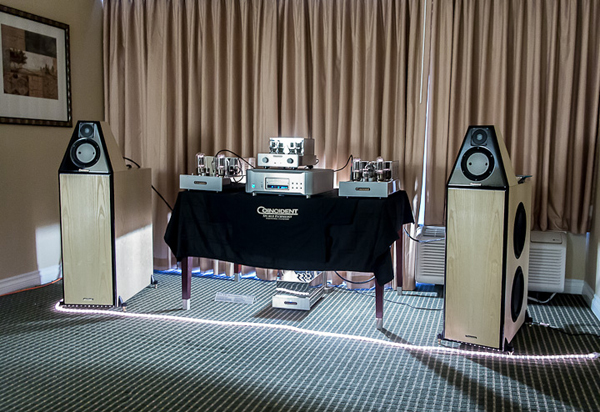 The Coincident Statement line stage ($5499).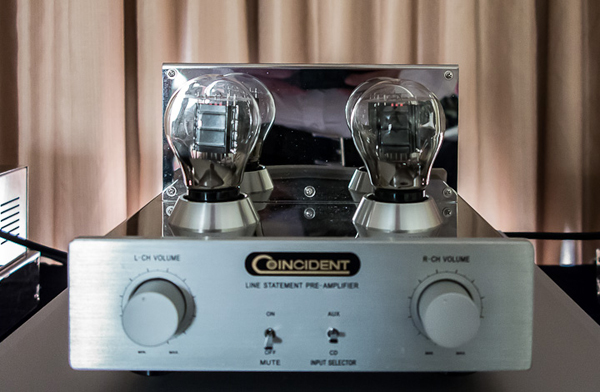 One of a pair of Coincident Dragon MK II 211PP 75 watt monoblock power amplifiers ($10,999/pair).


An Esoteric K-01 SACD player ($21,000) (not shown) was used as the source.
Coincident Speaker Technology plus a great listening session at T.H.E. Show 2012 Newport | AV Showrooms
Robert Harley on Electronics at T.H.E. Show Newport | AVguide
One of the great bargains in tubed amplifiers has to be the Dragon Mk. II 211PP monoblocks from Coincident. The amplifier is a 75Wpc push-pull design (dual 211 output tubes with a 300B driver tube) with a list of design and build features you'd expect to see in an amplifier five times the Dragon's $10,995-per-pair price. These include all polypropylene caps in the power supply, interstage transformers rather than coupling caps, a massive power supply, a gorgeous mirror-finish stainless-steel chassis, and a Vishay-based stepped attenuator at the input if you want to drive the amplifier directly from a source. The Dragon Mk.II sounded terrific driving Coincident's 94dB-sensitivity Pure Reference Extreme loudspeakers.
T.H.E. Show 2012 Newport | Silver Sound Award
T.H.E. Show Newport 2012 | Hot Product
While it's not exactly news that Israel Blume of Coincident Speaker Technology also designs electronics, the Mk II version of his Dragon 211-based push-pull monoblock is new. A thousand-dollar increase in price -- to $10,999 per pair -- nets a larger, heavier chassis, dual power transformers, and increased power-supply capacitance.
Not new are the Frankenstein M300B monoblocks, which offer 8 watts each from a single 300B output tube. Israel alternated between these and the Dragon Mk IIs on his Pure Reference Extreme speakers.
Israel has hit upon a near-magic formula for successfully selling both factory direct and through dealers, one that relies on discipline -- and demand for his products that taxes his ability to produce them in sufficient numbers. Fascinating stuff that we hope to cover in some depth in the future.
T.H.E. Show Newport Beach | The Home Entertainment Show 2012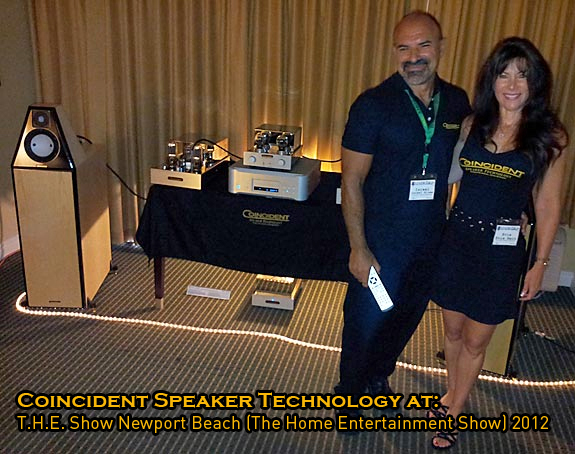 Coincident had a room filled with their gear including the 211PP Dragon MKII amps and Pure Reference Extreme speakers ($10,999 and $26,800 respectively). Great detail and imaging, yet never sounding etched. Such a fine line, yet their products work it very well indeed. The music simply naturally unfolded my notes say. Seen here is Israel Blume with his dazzling girlfriend.
Enjoy the Music.com
has reviews many pieces from Coincident, so check it out
here!
Rocky Mountain Audio Fest 2011 Show report | Series One
Rocky Mountain Audio Fest 2011 Show report | stereomojo.com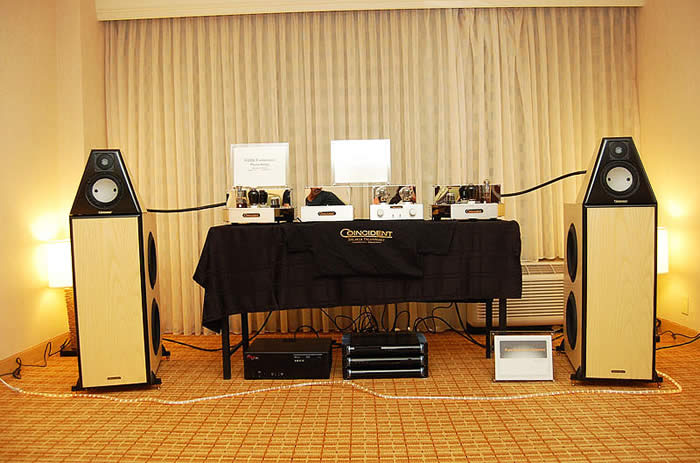 Nothing new from Israel Blume at this show, but his system consisting of the Statement Preamp, Frankenstein monoblocks (both of which we have reviewed) and the recent Pure Reference loudspeakers ($22000/pr) was simply one of the most musical, dynamic presentations in Denver.
Rocky Mountain Audio Fest 2011 | Audiophilia

It was especially nice to meet Evie Rein of Coincident Technology. She runs the company for Toronto designer Israel Blume (whos room sounded very good) and was by far the loveliest presenter at the show! All the folks I spoke to mentioned the great vibe and the friendship. It really felt like an audio happening. It was great to be slap in the middle of it all.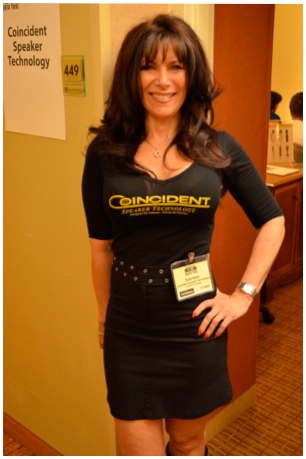 Evien Rein
RMAF 2011 Report - Loudspeakers Priced at $20,000 and Up | AVguide
Jonathan Valin's
Best Sound (under $40k)‬
Audio Physic Avanteras
Runners-Up: Magico Q1 (on Sunday), Wilson Audio Sashas (with D'Agostino Momentum amp and McGrath tapes), Coincident Speaker Technology Pure Reference Extremes, Von Schweikert VR5 Anniversary (with The Tape Project tapes), Schimmel Voxativ Ampeggio
In Room 449, I heard and was wowed by the $26,800 Coincident Speaker Technology Pure Reference Extremes, three-way floorstanders with Accuton ceramic drivers and side-firing woofers. These speakers had unusually lifelike attack, presence, resolution, and neutrality, with a nice sense of weight and density of tone color, to boot. To me they sounded curiously horn-like without any horn colorations. In other words, they were dynamic as hell, although they tended to be a bit aggressive on a John Lee Hooker cut.
RMAF 2011 Report - Electronics under $15,000 | AVguide
Long those lines, the Coincident Speaker Technology M300B Frankenstein MK II (SET) mono amplifiers ($5999/pair) mated to the CST Pure Reference Extreme speaker (Issue 215) sounded anything but slow and tubby in the bass. The overall sound was open, authoritative, extended, and also quite tactile with plenty of textural substance. If the M300B's 8 watts are not enough power (and they were more than enough for the P. R. Extreme), CST also makes the Dragon 211PP MK II (push/pull) monos based on the 211 output tube. If other 211 push/pull amps are any indication, the Dragon should provide 70 very powerful watts.
Rocky Mountain Audio Fest 2010 | Stereo Times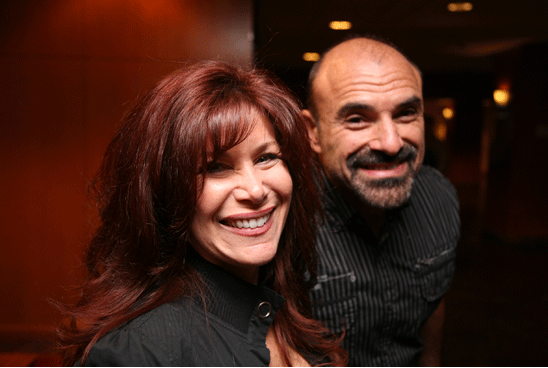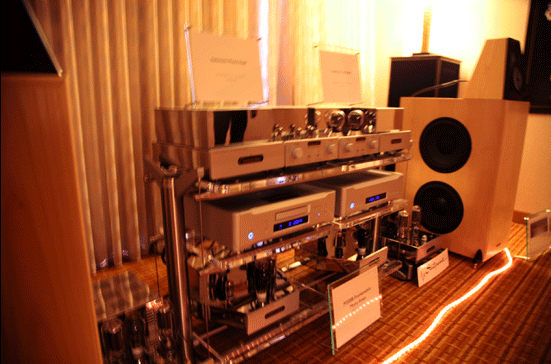 Exercise guru Israel Blume and his lovely workout partner are all smiles compliments of his new line of chromed electronics from Coincident Speaker Technology. On display were his 94dB, Pure Ref Extreme loudspeakers ($26,800 pair), M300B Frankenstein mono amps ($5,600 pair), Statement linestage preamp ($5,499). Digital playback is Esoteric's popular P05/D05 SACD combo. Time didn't permit me to sit and relish in the fine sounds that normally come by way of Blume's setup (but I will be sure to catch up to him at this upcoming 2011 CES). That said, what I heard was impressively dynamic, with lots of presence. I'll be sure to revisit you guys again in January. I'll even be sure to include a few jumping Jacks!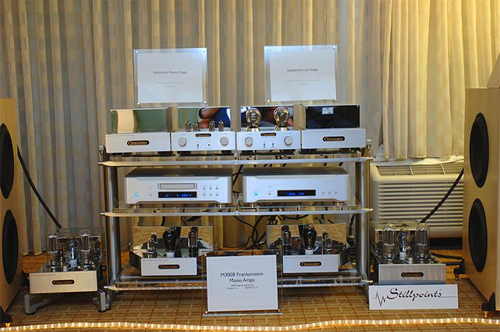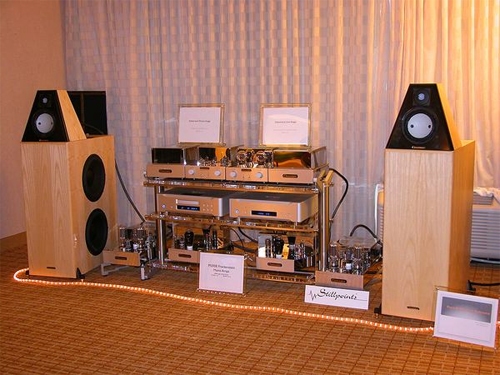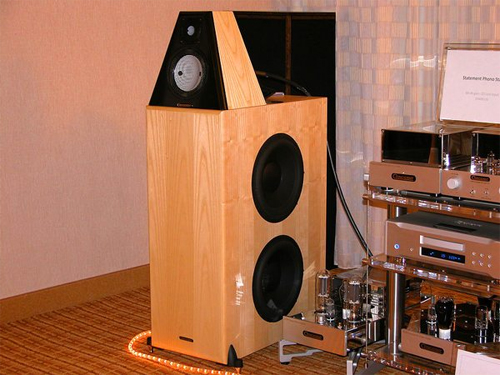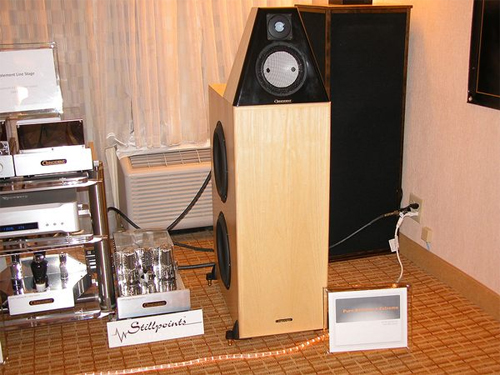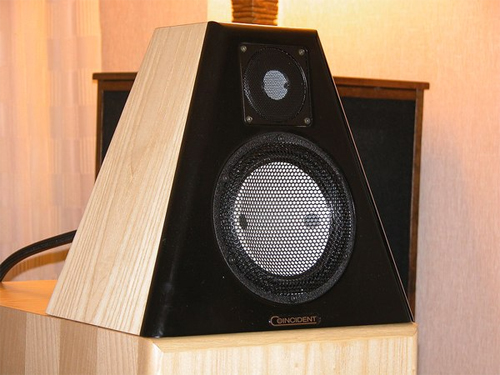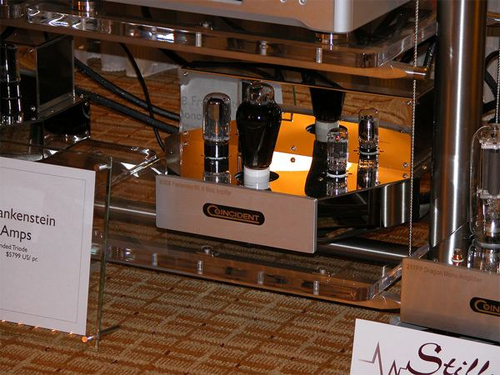 Rocky Mountain Audio Fest 2010 | Stereomojo
Israel and Evelyn Blume were showing the new Coincident Pure Reference Extreme speakers ($26,000/pr) driven by the M300B Frankenstein MkII mono amps ($5,600/pr) and the Statement Line Stage ($4,999). We were first to review both the mono amps and linestage as well as two pairs of Coincident speakers; all are world-class components and actual bargains in their classes. Once again, even with the new $26,000 speakers whcih are 94db sensitive, the sound here was as good as anything at the show and better than most, including systems north of $100,000. Way north.
Easily the most musical presentation, and easily the best in the $35,000 system category.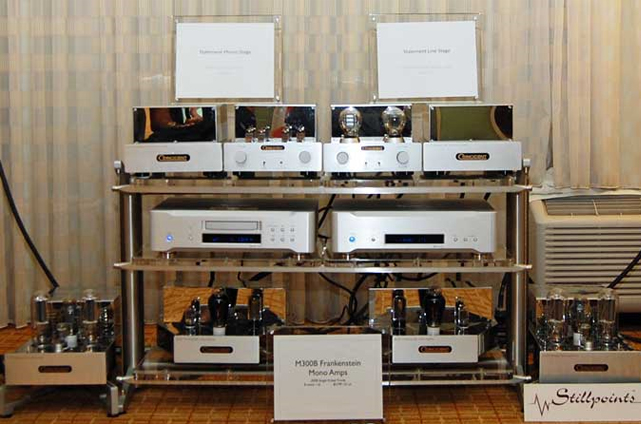 Israel also showed the new 2-piece Statement Phono Preamp at $5,499 (top left).
It's on its way to us right now.
TAS at RMAF 2010| the absolute sound
A Power Trip

Coincident Speaker Technology featured the debut of the Pure Reference Extreme loudspeaker, and it sounded fabulous (and at $26,000 it was well out of my category but look for forthcoming review in TAS). However CST also produces some terrific tube electronics, and I was particularly taken by the 8-watt M300B Frankenstein MK II SET monoblocks ($5600/pair), the Statement linestage (with a 41-pound power supply!) at $4999, and the Statement phono preamp, driven by a quartet of 12AX7 tubes with plenty of gain to handle most moving coils ($5499). Driving the 94dB sensitive Pure Ref Extremes, the CST electronics produced the widest, literally wall-to-wall, soundstage I heard at the show. Truly spectacular.
CES 2010 part 7 | Stereomojo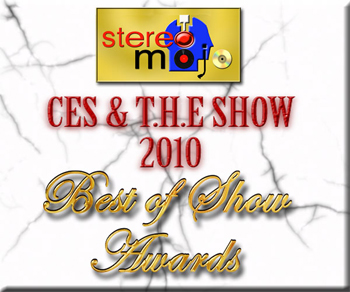 Our Best of Show Awards are based on several criterion. First, the awards are granted to those products we actually heard and saw at either CES or T.H.E Show. There were many products on display but not actually playing, so they would not be eligible. In addition, because there were so many products spread out over so many different locations, it was impossible to see and hear everything, so there may be other very deserving components we did not evaluate. Second, many are based on perceived value with price, design, uniqueness and build quality as major factors. Others donot take price so much into consideration, but are based on pure sonic performance. We also mainly focused (but not exclusively) on products that were new or recently released rather than products that have been on the market for some time, even though they may be superior to those that were newer. Last, we reiterate that evaluating stereo equipment under show conditions is futile at best. One system that sounded great in one room may actually sound not as good in another. one thing we know for sure - everything we have heard over the years at shows always sounds different in our homes and in our systems.
Still, there were certain products that even when all the above factors are taken into consideration, seemed to stand out in one way or the other. Those are the products upon which our awards are bestowed.
Of course, award status does not constitute a recommendation for purchase or not. These are not full reviews and should not be considered as reviews at all.
BEST MEDIUM SIZE SPEAKER VALUE
It turns out that our Best Overall New Product Value is a mid-sized speaker, so we'll save that for later. There were two other speakers in two different price ranges that were outstanding values.
>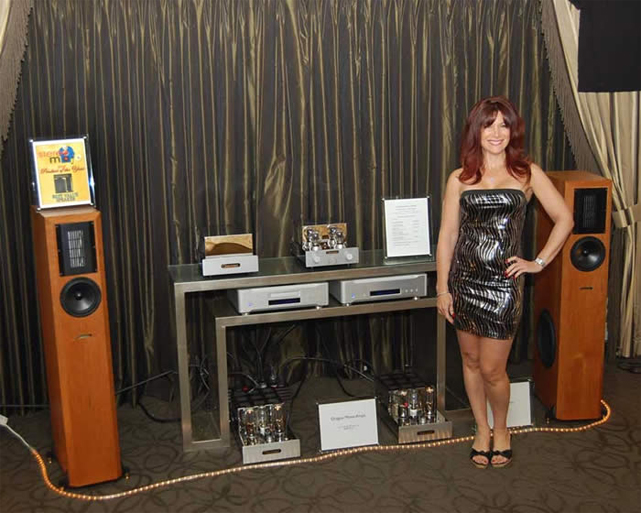 The Coincident Super Victory
Things get tougher here, but the word value is the overriding consideration. These could be large stand mount types or medium floorstanders. Once again, we are constrained by those we actually heard. There were wonderful speakers by Wharfdale, Paradigm and Dynaudio to name just a few. The new Sonist Recital 3 certainly turned our heads and ears.
At $9499 US / pr., the Coincident Super Victory outperforms most other speakers in terms of pure musicality. We reviewed them and gave them several awards, very rare for Stereomojo. Hearing them again at the show truly justified our praise. Listening to these, especially with good tube amplification, is like listening to music wafting from heaven itself - played through these speakers, of course. They were one of the few floorstanding speakers that worked perfectly in one of our very small (10x12) listening rooms, yet were also fine in larger rooms as long as they're not too big. Very amp friendly - we drove them well with as little as 5 wpc. Never grating, easy to listen to for hours, which we did many times. Perfectly balanced with qualities seldom seen or heard in any speaker. They are just extremely satisfying and immersive and bring the music to you instead of you having to listen to them.
Best Value Preamp
COINCIDENT STATEMENT PREAMP
Statement Power Supply
On our review of this preamp, our publisher said, "The Coincident Statement Linestage at $4,995, given its ultra-high level of performance, is a true bargain for those looking for the ultimate in amplifier preamplification. Its transparency and the vitality of its sound ranks it among the very best at any price. Its quality and classy good looks belies its price and could certainly be the last preamp you would ever buy. If you have a high quality system but feel an upgraded preamp is what your system lacks and are looking for something around this price range or even considerably more, you should definitely give this a listen".
That's about as close to an all-out rave as Stereomojo gets. Our experience in Vegas only reinforces that opinion. In fact, the newer version Israel Blume played for us sounds even better than the early model we reviewed, mainly because of the new tube damping isolation system he installed that eliminates its sensitivity to air-borne feedback. we don't know of another two-box (separate power supply) preamp anywhere near this price, and certainly not with the glamorous polished stainless steel casing you see here. Yes, even at $4,995 this is a screaming value.
The following product awards are for "Best of Show". These awards are based more on total sound quality, appearance and performance with much less emphasis on price or overall value, but at Stereomojo, value can never be totally eliminated in our thinking. We also gave more weight to those products debuting at the shows., since the word "new" is part of the equation. You will notice that we are not handing out these important awards for every category. When you get into very high-priced equipment, it is impossible to determine, say, the best overall preamp, when it's in a system with other amps, speakers and players. We think singling out those type of products, particularly since most of the products PLAYING at the show were ultra expensive, is simply an exercise in industry politics or worse. We don't play those games, so the Best of Show honors are just that, products that were clearly the best in their respective categories.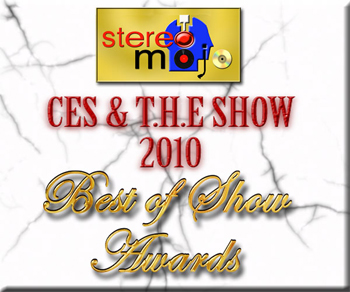 BEST NEW SPEAKER
CES 2010 part 4 | Magazine Audio

Par Marc Philip | Publié : 17 janvier 2010
Restons au Canada, avec un système composé de :
•Super Victory speakers, sensibilité 93 db à 8 oHm : 9499$ la paire,
•Frankenstein M300B, des amplificateurs mono bloc à tubes utilisant des 300B et revendiquant la respectable puissance de 8W par canal : 5699$ la paire,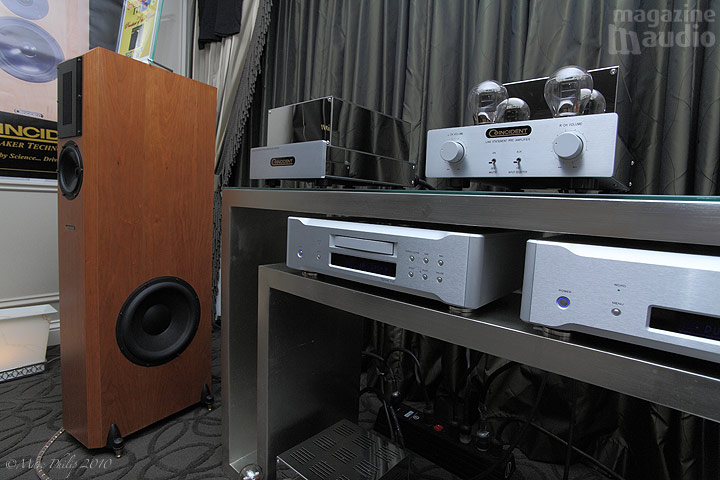 •Amplificateur monobloc Dragon 211PP, push pull offrant 80W / canal : 8999$ / paire,
•Préamplificateur à tubes (101D) annoncé pour 20 db de gain, entrées et sorties XLR et RCA,
•Préamp phono avec alimentation séparée, équipé de 4 X 12AX7, double potentiomètre de volume,
•Esoteric P05/D05 SACD DAC Transport : 14 995$,
•Tous les câbles utilisés étaient de la gamme Extrême de chez Coincident.
Belle démonstration, simple, sobre, efficace, nous n'avons jamais été déçu par les enceintes de ce fabriquant, c'est toujours une écoute soignée, avec juste ce qu'il faut de détail pour éviter de trop penser aux type d'électroniques en arrière.
Ces gens là savent réaliser de beaux appareils qui jouent de la musique.
Coincident Speaker Technology
19 Strauss Rd
Thornhill, ON L4J 8Z6
Canada
Site web du manufacturier : www.coincidentspeaker.com

CES 2010 | stereomojo.com

STEREOMOJO SPECIAL DUAL REPORT
Part 2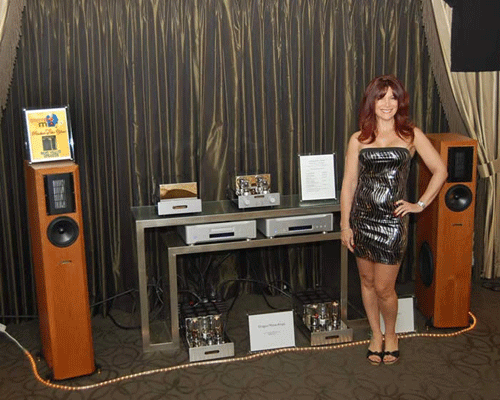 There are a lot of beautiful things in this Coincident Speaker Company room picture, but we think the award atop the left speaker is the best;
Our Stereomojo Best of 2009 Award for the Coincident Super Victory speakers. We have reviewed everything Coincident in this picture, except for Effie, Israel Blume's better half who just deserves a special award herself, as you can see. We just closely inspected her...
On the top shelf is the two-chassis Line Statement preamplifier which is one of the best sounding preamps at any price, much less it's $4,995 going rate. That's why it is our 2009 Linestage of the Year. We guess Israel didn't want to display too many awards... As he demonstrated, after our review he has eliminated the one bugaboo we noted, the tubes sensitivity to feedback. He engineered new mountings that, as he demonstrated, are less prone to feedback than most other preamps on the market - a remarkable improvement. Israel has never been one to exaggerate his product's qualities, so when he tells us that the improved version sounds even better than the early model (a world's first review) we believe him.
On the floor are the mighty Dragon monoblocks that put out over 120 watts of peak power, 80 watts continuous that performs more like 150 watts for $8,999. Not each, but per pair!
Our review is coming soon. Also on display were the incredible The M300B Frankenstein MK II monos we reviewed last year that turned out to be the very best we've heard in a low-powered (8 wpc) SET. Absolutely magical mated to the Super Victory's and a steal at $5,599 per pair. Coincident simply makes some of the most musical audio devices on the planet at prices that are a real bargain.
New at the show is the Coincident Statement Phono preamp. Like th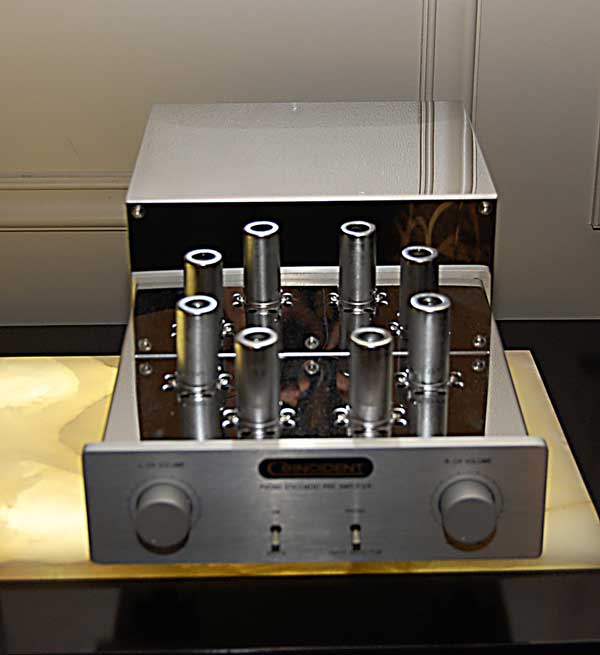 e Linestage, it also has a separate power supply (not pictured). The Coincident Statement Phono Preamplifier is a high gain, all tube unit employing the highest quality MC step up transformers to accommodate virtually all moving coil cartridges. Due to employing only 2 all tube gain stages, high gain is achieved with low noise. The RIAA curve is passive, zero feedback utilizing the closest tolerance resistors and polystyrene capacitors to obtain accuracy of less than .1 db deviation from 20hz – 20khz.
The 66 db overall gain coupled with low output impedance and the use of the finest discrete resistor volume pots allows the Statement Phono Preamplifier to be directly connected to an amplifier without the use of a line stage.
There are no circuit boards to deteriorate the signal transfer. Everything in the Statement Phono Preamplifier is hard wired. The separate power supply has enough capacity and energy storage to power a 100 watt amplifier. There are separate transformers for the high voltage and low filaments. Furthermore, the high and low voltage sections have independent choke and large capacity filtering.
The build quality of the Statement Phono is the finest available. It was designed with no cost restraints. It represents an all out assault on the state of the art at only $5,499.

CES 2010 | enjoythemusic.com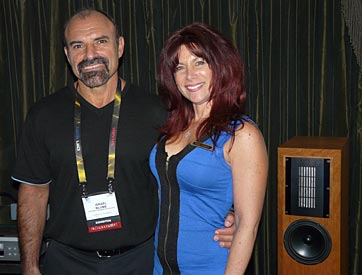 Israel Blume and Evie are a dynamic duo as Israel designs and builds the award-winning Coincident speakers and amplification devices. No need to tell you too much about those as we have reviewed them within our pages. They did have the new Super Victory speakers ($9500 per pair), which we recently had the World Premiere of within Superior Audio magazine. They are introducing a new Statement linestage and Statement phonostage ($4999 and $5499 respectively), you can check it out on their website.
CES 2009 | enjoythemusic.com

The next room had a very familiar sound. In fact, it was the very Coincident Speaker Technology Total Victory IV speakers ($15,000) and Frankenstein MkII Monob
lock Amplifiers ($5699) that I had raved about in recent reviews. Actually, the amplifier in use at the time was the Dragon monoblocks ($9000) that employ 211 tubes in push-pull configuration for 80 watts per side. The front end was MSB Platinum transport and DAC. Although the room was in the league of the best I heard at CES, it was not at the high level I experienced in my dedicated music room. Israel Bloom had warned me that there would be a lot of really good sounding rooms at CES, and he was certainly right about that. What I learned from hearing his gear in the hotel room was that the good gets even better at home where everything is gets tricked out and the music has room to breathe. This was a rare opportunity to hear components at a show that I had just reviewed and were fresh in my memory. More commonly we hear the gear at a show and then get to review it. What stood out for me at CES was the honest value and comfortable styling that Coincident delivers in the light of what else is out there.

CES 2009 - The Stereo Times

Israel Blume, designer of Coincident speaker Technology really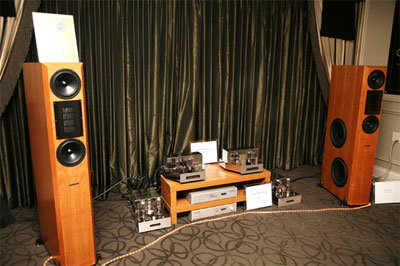 has a winner in his latest incarnation called the Total Victory IV ($15k). These 200-lbs. gargantuans sport a large (radiating range) ribbon tweeter in a D'Appolito cofiguration against dual 7" midrange drivers. Additional dual 12" woofers are side-loaded for extra ease and sensitivity (rated at 95 dB!). Driven with Blume's new series amplifiers, the one thing the Total Victory IV eschews is quality sound. And what I most admire about Blume is he isn't the least worried about the stratospheric prices that has afflicted our beloved hobby. I've personally reviewed Coincident loudspeakers and believe, hands down, the Total Victory IV has to be the biggest, baddest and most impressive sounding high-end loudspeaker I've seen for the money. Kudos to you Mr. Blume!



The Coincident Speaker Technology Total Victory IV is sporting all new drivers, and fewer of them than its predecessor. Fast, energetic, and with terrific immediacy especially on brass and winds, it has a larger ribbon (extending an octave lower) along with twin 7" mid/bass drivers and a pair of 12" side-firing subs. Response is flat to 22Hz according to designer Israel Blume. After the impressive demo, I don't
doubt it.



Price: $15,000.



CES 2009 Show Report part 2 - Stereomojo Speci
al Report


Not Italian, but definitely hot are the Stereomojo 2008 Product of the Yearwinners
from Israel Blume at Coincident. Out of the thousands of products atCES, we presented only FIVE Products of the Year Awards. Pictured here are the Total Victory IV models which are the next model up from the Super Victory's we reviewed and on which we bestowed our "Best Speaker Value" award for speakers over $5,000. If you combine them with the 300B Frankenstein monoblocks pictured on the shelf top (our world's first review is coming soon), you have one of the most musically rewarding systems at any price. The Coincident's are extremely efficient and may be one of the most tube friendly speakers on the planet. We drove them with 5 watts very easily. We may have to come up with a new award for that combo - Best Speaker/Amp Combo from the Same Company. But then the same pair of Total Victory's you see here is coming to us directly from Vegas, so we may have to withhold judgment.
CES 2008
Show Report - Feedback
--------------------------------------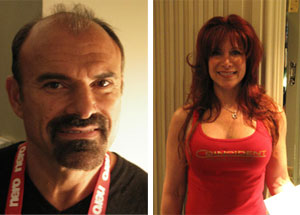 Israel Blume of Coincident Speaker Technology without a doubt had the Best Girlfriend in the show (below). Israel now sells his own line of 300B SET and 211 push-pull amplifiers. A recording I'd never heard before of Elvis Presley singing "Fever" was stunning through Israel's Pure Reference loudspeaker. This room attracted quite a crowd.

The Stereo Times
Electronics Show 2008
--------------------------------------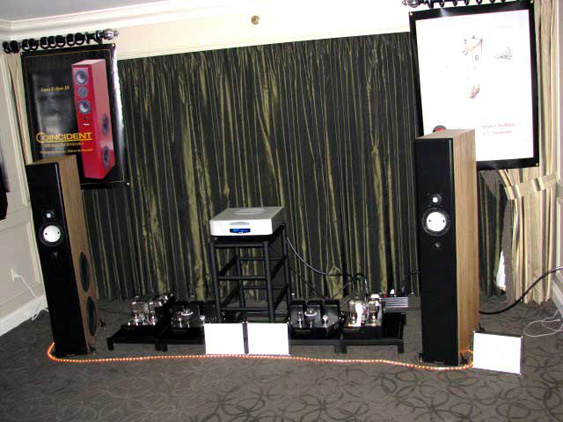 Coincident Technology: Israel Blume found a great way
to get people into his Coincident Technology room: have an attractive and quite pleasant young lady greet you at the door.
The young lady was a ravishing redhead named Eve Ren but let's be honest, she wasn't the only reason to stop in this room. Blume was demonstrating a Coincident Technology system featuring a pair of Pure Reference loudspeakers ($22,000/pr) being driven by his own Dragon 211PP and M300B Frankenstein mono amps. An Audio Aero CD player was the front end source.
Audiogon.com
Electronics Show 2008 Pictures
--------------------------------------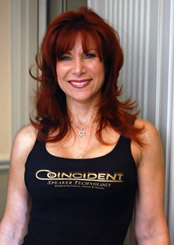 Stereomojo.com
Consumer Electronics Show 2008
--------------------------------------
Hard to resist entering a room that has a stunning redhead outside inviting people in, but we're glad we did. The sound in the coincident room was wonderfully musical, no edge or glare - pure. The speakers are the no-compromise Pure Reference at only $22,000/pr. Pretty cheap for a top of the line big box. The Pure References can be easily driven to concert hall levels by low powered tube amplifiers (3 watts or more) because they possess the 5 requirements which make this possible:
1. High sensitivity (94 db @1m-1 w).
2. Uniform high impedance modulus (flat 8 ohms).
3. Total absence of any hard phase angles (meaning they are absolutely phase coherent electrically).
4. Very tight bass tuning (which makes it easier for low damping factor- high output impedance amplifiers like SETs to control the woofers).
5. Simple first order crossovers which do not rob amplifier power or reduce speaker sensitivity.
Oh yeah. The speakers were the Pure Reference with 94dB sensitivity and a price of $22,000 - Israel's statement speaker.Like we said at the beginning of this report, it is impossible to critically evaluate a system under show conditions, but we can say this; this system was one of the most memorable of all we heard. First, the big speakers completely disappeared in the rather small room with no apparent, special room treatment. What remained was exactly what the speaker moniker describes - it was pure, and it was reference quality. Israel told us he puts much emphasis on soundstage and imaging in his designs and that is exactly what we heard.The sound was immersive and enveloping. It drew us in and held us captive. Mesmerizing. Captivating. Full range and full scale and linear. At around $30k, this system was far from the most expensive - other systems we heard were north of $250,000, but none was significantly better than this for us.I got to spend some time talking to Mr. Blume and I came away knowing this guy "gets it" and knows his stuff. He also has a consuming passion for music and audio. In short, he made some new fans. Thanks, Israel.